Tags
Related Posts
Share This
The Global Party Hosts – 80,000+ OF THE WORLD'S ELITE… In 80+ OF THE WORLD'S FINEST LOCATIONS… ALL WITHIN 24 HOURS…
Total views 482
---
Do affluent need an occasion to showcase their decadence? Are they so self-indulgent that their gold-plated heart and silver spooned meals doesn't give a hoot to the needy? I can imagine hands and eyebrows being raised to hear your loud "Yes" while I choose to partially disagree with you. But, in this case, I beg the differ…
Case in point: The Global Party , a party of Royaltons scheduled for 15 September 2011 at 80 plus world's finest locations (from Amsterdam to Rio to New York and Dubai and Shanghai) witnessing more than 80,000 plus elite guests. The biggest, richest ever party to stay live for 24-hours is being hosted by a London-based group of hedge-fund managers i.e. Mr. Busson, entrepreneur Tom Singh, a Pakistani Prince and Stanley Fink, the hegde funder and Tory Party Treasurer. The Global Party 2011 is an eligible candidate to enter the Guinness Book of World Records and is ambitious to make up for the same with its strong active arrangements.
Now call it their debauchery or fortune, but the rich faces behind this gala ceremony have kind hearts. They see it as an opportunity to generate employment opportunities for those who still thrive for a job in a developed country and the day will be marked as an initiative for a good cause in the history ever.
The party concept is inspired by Phileas Fogg, the protagonist in Jules Verne's "Around the World in Eighty Days." The Punch here is: "If you have to ask, you're not invited." It is indicative that the venues are not open to general public. Those anticipated to be seen on this big day are Liz Hurley, Uma Thurman and Simon Cowell. Each table reserved is reported to cost 100,000 pounds. It is been said that via Invitees to The Global Party would be respected with a dazzling black gift box; sheathed within will be two silver Key-2 Luxury key rings that offers the blessed owner access for life to the Key-2 Luxury world of 1000's of personal contacts and exclusive VIP privileges along with the choice to be present at any of the 80 venues.
To clear any/all of your doubts, the proceeds from the event (around 5-10 million pounds) will go to the charity ARK (Absolute Return for Kids), founded by hedge-fund manager Arpad "Arki" Busson (aka "Mr. Uma Thurman"). Mr. Fink's version of such parties is they are truly altruistic in nature.
The question here remains how wise is this way to generating may to give away as Charity? We have negative press and critical minds to follow the grand event and global display of wealth in the midst of economic adversity and come up with an answer. For Miss $wiss, my vote goes for the wealthy that if not other, by indulging in self they are doing good for others. I like that."Get This $wiss!!"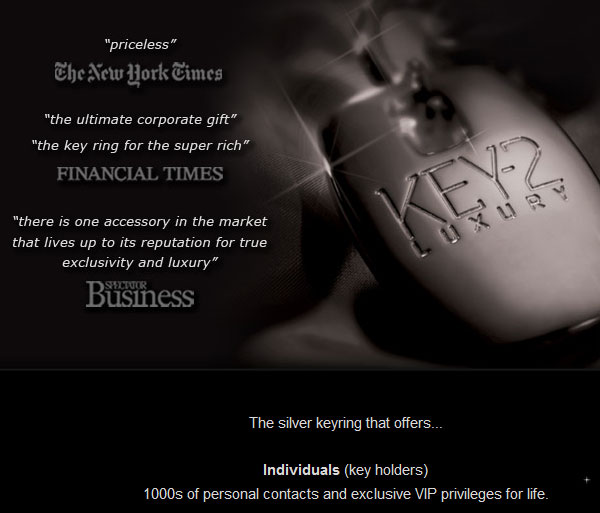 ---
---
Thursday 15th and Friday 16th September 2011…
The Global Party offers a unique opportunity to link together 1000s of the world's most influential people, premium brands and luxury venues; including super yachts, night clubs, private members clubs and 5* hotels across the world. In order to raise a significant amount of money for 100's of charities across the world and to support up to 12 official charities including IAA (The Duke of Edinburgh's Award- International Award Association), IIE (Institute of International Education) and ARK (Absolute Return for Kids). The Global Party aims to take the charity cause to a new dimension and to an expanding global audience.
Inspired by Phileas Fogg…
"Around The World In 80 Days": The Global Party will co-host 80+ parties around the world, not in 80 days, but all within 24 hours with 80,000+ invitees around the world. Parties will be hosted by the owners of each venue in Amsterdam, Cape Town, Delhi, Dubai, Marbella, Marrakech, Melbourne, Mexico City, New York, Sao Paulo and Shanghai to name but a few.
One invitation to rule them all…
Each of the 80,000+ invited VIP guests will be given a special edition Key-2 Luxury silver key ring as the official invitation to The Global Party. This will enable each key holder not only to choose which of the 80+ venues worldwide they wish to attend but also give them access to 1000s of personal contacts and exclusive VIP privileges for life. The key ring is not available to the general public, making it truly exclusive.
globalpr.net…
For a concise and united PR campaign, The Global Party is delighted to use globalpr.net as its official PR platform. globalpr.net is a comprehensive PR website that allows The Global Party partners, sponsors and press to instantly access information, images and up-to-date press releases. globalpr.net not only compliments the access of information about the party, but provides all involved with a forum to showcase their individual brands and much more.
Linking the world for a worthy cause…
We very much look forward to bringing this event to life, uniting everyone for a common cause, supporting a number of charities around the world, and to redefine the notion of a party. We very much look forward to you being part of this extraordinary global event.
Kind regards,
David Johnstone
CEO/Founder
The Global Party
---
If you have been invited to The Global Party, or wish to be invited… Please do not forget to tell your associates that you were referred by Miss $wiss. Thank You.
---